News & Notes
Ray Marentette Receives Phil Green Recognition Award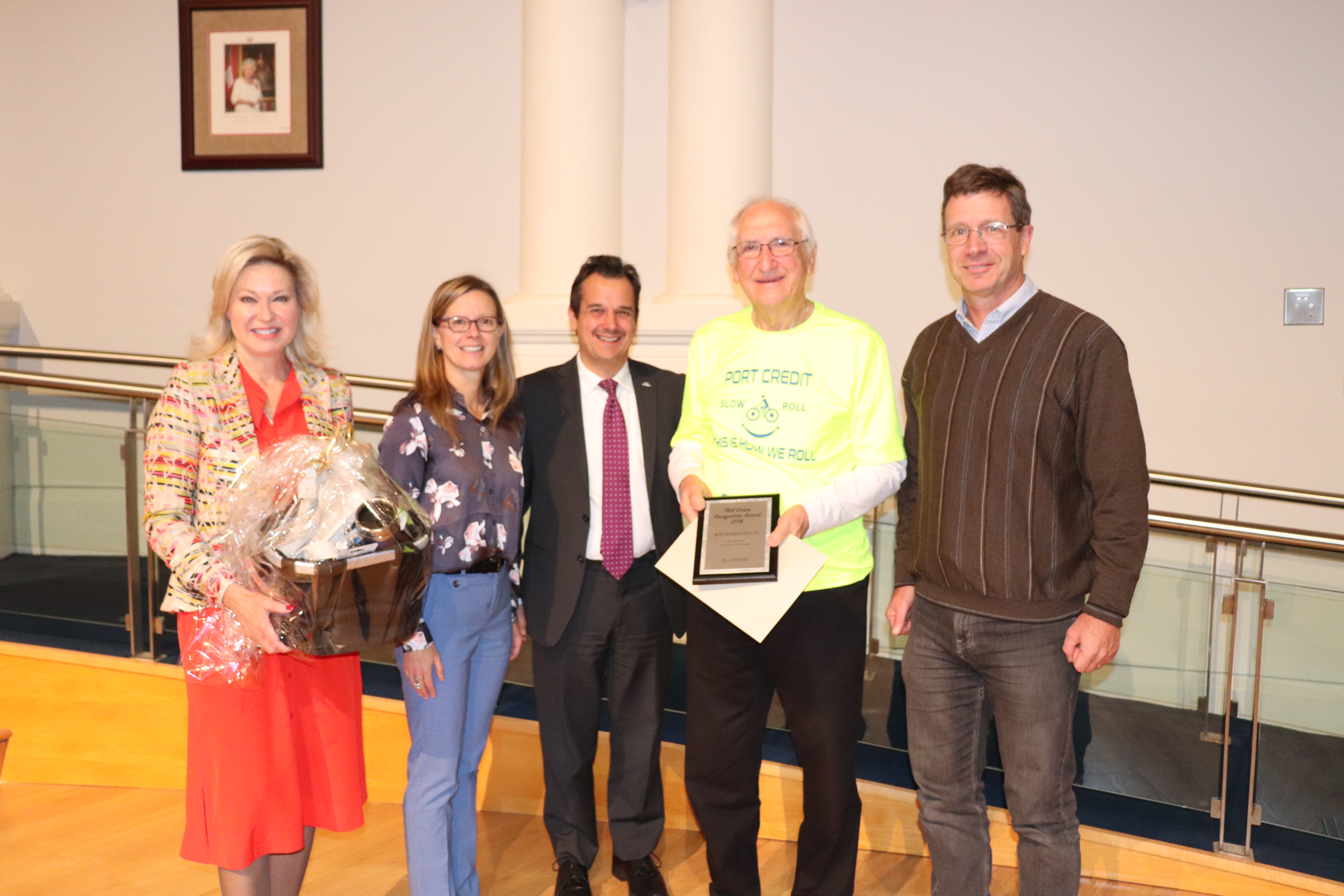 Congratulations to Ray Marentette, founder of the Port Credit Slow Roll (Facebook Group page) on his Nomination for the 2018 Phil Green Recognition Award, presented in the Council Chamber on November 13, 2019.
TOPCA has been pleased to promote the Port Credit Slow Roll schedule of free bi-weekly group bike rides over the past two years (April thru October). This award is well-deserved and we're also proud to have Ray as a TOPCA member!
► City Press Release (November 13, 2019): Ray Marentette Slow Rolls his Way to the Phil Green Award. Includes caption to photo.
► See: TOPCA's Cycling webpage where we look forward to posting the 2020 PC Slow Roll schedule!
---
QEW - Credit River Bridge Project
CHANGE OF PLANS? RECEIVED: Notice of Study Commencement – Transportation Environmental Study Report (TESR) Addendum Study; and Public Information Centre (PIC) for the QEW Credit River Bridge Replacement Project. ► PIC Notice re Nov 7 2019) (2p PDF).
PIC: Thursday, November 7, 2019 @ 4:00-8:00 pm at Anapilis Halls (Archives Hall), 2185 Stavebank Rd (map). Comments can be submitted until November 29, 2019.
UPDATE: The future of the Heritage Bridge will be debated at Mississauga Council on Wed. November 20, 2019 @ 9:30 am in the Council Chamber at City Hall. More details pending.
Those who have concerns about the heritage bridge being demolished may wish to attend and state their views.
Years of citizen consultation went into the design of the QEW Credit River Bridge project, and now one PIC meeting is all that's needed to reverse course? TOPCA reps are planning a Deputation.
NOTE: This project originally involved the rehabilitation of the existing Credit River Bridge (built in 1934 as an open spandrel concrete arch bridge, and considered an official heritage bridge in 2013 when the project consultation began), construction of a new westbound Credit River bridge, improvement to the QEW, and reconstruction of the Mississauga Road Interchange.
PROJECT TEAM UPDATE: "Rehabilitation / repair (while technically feasible) is no longer recommended, according to the project team. Instead, the Province has chosen to take an alternative approach to life cycle asset management through demolition and replacement of the existing QEW Credit River Bridge rather than rehabilitation / repair of the bridge."
► View Project Team Letter (October 25, 2019) explaining the changes (2p PDF).
Image: One arch of the heritage QEW bridge over the Credit River, featuring the utility corridor running under the deck, which was planned to provide an east-west active transportation connection over the river.
The Project Team says it's still working with City of Mississauga to incorporate active transportation initiatives for pedestrian + cycling crossings across the Credit River, and over the QEW at Stavebank Road.
► Project information: QEW Credit River website. NOTE: Display Boards, Notes and Presentations from all past consultations and PICs have been removed.
► See: TOPCA's QEW webpage for background.
---
TOPCA Town Hall Meeting and AGM
BIG MEETING - We are so excited about the Port Credit 2029 series kickoff at our Town Hall & AGM on Monday, November 4, 2019 @ 7-9 pm at Clarke Hall, 161 Lakeshore Rd W (map).
We have just updated the Flyer again (shown at left) to reflect our growing list of sponsors, which is much appreciated so that we can provide hospitality to attendees and have a bunch of Prizes for the FREE Draws at the end of our brief Members' Business Meeting @ 9:10 - 9:30 pm, after the Town Hall (so please stick around).
► First in the new TOPCA series: Port Credit 2029.
GIL PENALOSA - KEYNOTE SPEAKER: We are thrilled to welcome Gil (Guillermo) Penalosa, MBA, PhDhc, CSP. Gil's full bio is extensive, but most importantly to us, Gil has a personal connection to PC, having worked here on Lakeshore Road over a decade ago, in the initial office of 8 80 Cities, which then was called Walk & Bike for Life. Gil was a community mentor as citizens got together to deal with the beginnings of change in Port Credit. Now Gil is known world-wide, and we want to give him a great Homecoming. He has generously waived his usual speaker's fee for us. Gil will address Port Credit and Mississauga issues through his lens of international experience and consulting/advocacy for public spaces, sustainable mobility and quality of life issues in over 300 cities.
► See: TOPCA's Port Credit 2029 webpage for more about this first meeting in the series.
---
One Port Street East - EA Initiated for Proposed Marina
July 2019 - The City of Mississauga is initiating an Individual Environmental Assessment (EA) under Ontario's Environmental Assessment Act for the 1 Port Street East Proposed Marina Project.
The EA will study the proposed expanded land base on what is known as the "eastern breakwater" for additional waterfront parkland, and examine marina alternatives for this site.
NOTE: Next public meeting will take place in January 2020. Details pending.
► See: City's 1 Port Street East Proposed Marina webpage for this EA project.
► See: TOPCA's Port Credit (CLC) Marina Lands webpage.
---